Blast back to a week or so ago, when I was yammering on about how much I enjoyed online shopping....well I have to curtail my habit before it gets even more out of control!!!!
Over the past few days, I have purchased:
a sweater clip
a pair of espadrilles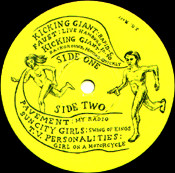 weirdo ebay auction for someone other than myself (SNOOZER!)
I arrive home after a long day at work, having just walked allllll the way home down Queen Street, without buying "A SINGLE THING!" I'm thinking to myself - I definitely deserve to buy myself something off the internet!
I'm also finding that as soon as I sell something off my etsy site (BUY MY CRAP!!!!!), that justifies my online splurges even more!!
"Why worry?! I GOT PLENTY UH CHEESE IN MY PAYPAL ACCOUNT!"
Someone please introduce me to a hobby that doesn't require spending money frivolously on things I'm going to wear to the office, and have my coworkers laugh at (they're dyyyyying for me to build up enough courage to wear the turban I bought a few weeks ago)